Lateral Connections
Lateral Connections
QwikSeal
If you can core through it, QwikSeal can connect to it. QwikSeal allows you to connect service pipe to solid wall, profile, closed profile and corrugated pipe. Meets ASTM C 923. No need to excavate the entire line. Tap into new, existing and rehabilitated sanitary and storm lines. Available in 4" , 6" and 8" sizes. Fast, simple and reliable installation. Test to 5.0 psi prior to concealing.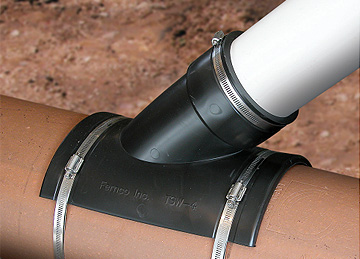 Flexible Tap Saddles
The faster & less costly way to make sewer main connections. Flexible Tap Saddles provide a soil-tight seal. Use Fernco Tap Saddle Pressure Kit (TSPK-46) for a water-tight connection up to 10 PSI. One Fernco Saddle will fit and 6" and larger sewer mains. Available for all 4" or 6" plastic or cast iron drain pipe inlets in tee or wye configurations.