StormDrain Plus - Your Complete Surface Water Drainage Solution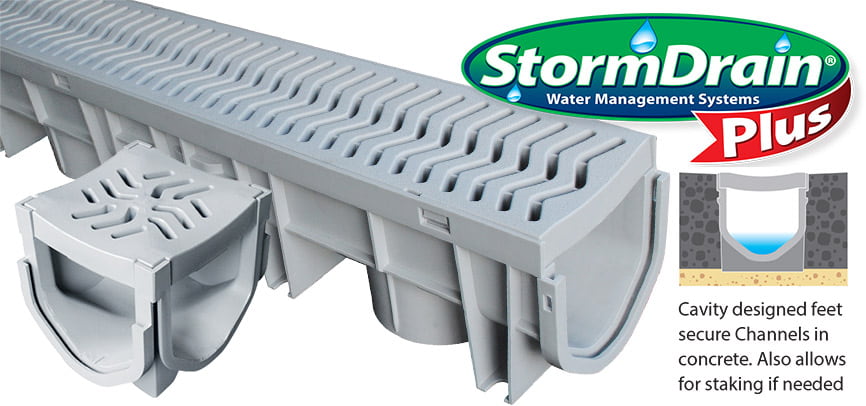 Improved Drainage
The durability & high performance of Fernco StormDrain Plus ensures a long lasting, permanent solution for the removal of standing surface water.
Applications
Driveways - Positioned between the garage and the driveway.
Patios - Where water may be pooling.
Swimming pools - Divert pool water away from grass.
Sports Courts - When standing water could be hazardous.
Gardens - Divert natural run off safely.
Walkways - Drains pooling water safely and conveniently.


Simple Accessory Attachment
No clips or screws required to assemble.
The StormDrain Plus Quad, End Cap and End Outlet slide into the Channel's female ends and cut-to-length end while including tabs to fit into the male ends.
Specifications
All products are "UV" inhibited
Grates are ADA and heel guard compliant
Grates have non-slip textured surface
3 bottom outlets in every channel drain
No clips or screws required to assemble
CLASS B: Loads of 61-175 psi.

Recommended for medium-duty pneumatic tire traffic, autos and light trucks at speeds less than 20 mph.
StormDrain Plus Products

| Part No. | Description |
| --- | --- |
| FSDP-CHGG | 39.5" StormDrain Plus grey Channel with grate |
| FSDP-GP3G | StormDrain Plus Contractor Pack: 3 sticks of grey Channel with grate, 1 End Cap & 1 End Outlet |
| FSDP-QUAD | StormDrain Plus Quad - 4-way connector |
| FSDP-EC | StormDrain Plus End Cap |
| FSDP-EO | StormDrain Plus End Outlet |
Replacement Parts

| Part No. | Description |
| --- | --- |
| FSDP-CH | StormDrain Plus Channel ONLY |
| FSDP-GG | StormDrain Plus Grey Grate ONLY |