Hyperflex
Hyperflex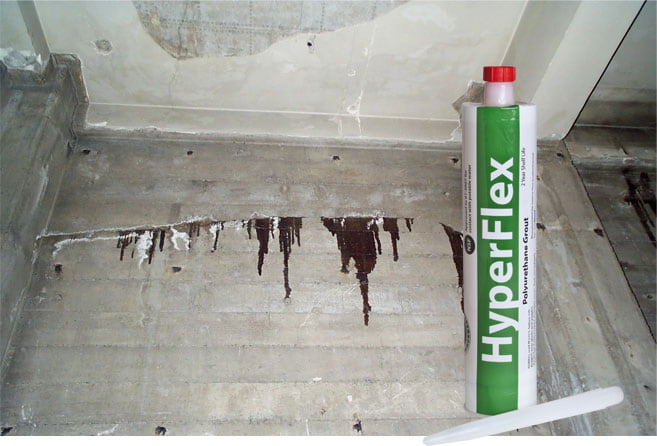 Instantly stop water infiltration, with a closed cell hydrophobic grout.
HyperFlex is a single component, pre-catalyzed hydrophobic polyurethane grout that has proven to be extremely versatile in a variety of infrastructure rehabilitation applications. The effectiveness and flexibility causes HypefFlex to be the ideal product for repairs in tunnels, manholes, concrete dams, car park decks, bunds, culverts and more.
Traditional grout methods can typically cause catalyst mixing inaccuracies or guesswork, often resulting in an unreliable and permeable repair. However, Hyperflex's grout repair is pre-catalyzed, allowing our customers to create long-lasting, effective reformations—simply by adjusting the containers temperature for particular reaction times. Additionally, its hydrophobic characteristics eliminate shrinking concerns that derive from hydrophilic substances. Hyperflex is supplied ready to use in 300 ml tubes—establishing a simple and effective premixed grout.
Compared to the more aggressive SealGuard product, HyperFlex is a better suited for more widespread low-flow rate infiltration and leakage. Because of HyperFlex's slower reaction time, the material is able to travel further with better coverage to effectively seal the leak and protect against future infiltrations. The product has been successfully field tested on cracked or honeycombed concrete, voids between walls, floors and ceilings, expansion joints, pipe intrusions, barrel joints, annulus grouting and underwater applications.
Pre-catalyzed
Water Resistant
Extensive Coverage
Non-Shrinking
Long-Lasting
No Mixing
Versatile
Simple
Please use HyperFlex Drill Bit - 1/2"
1/2" x 18"x 3/8" Masonry Hammer Drill Bit (Standard Chuck)