Large Diameter Coupling Series
Large Diameter Coupling Series
Ideal coupling for repairs, alterations or rehabilitation of large diameter sewer pipe
Made from flexible PVC
Use with common sewer piping materials: clay, concrete, cast and ductile iron, AC, plastic or fiberglass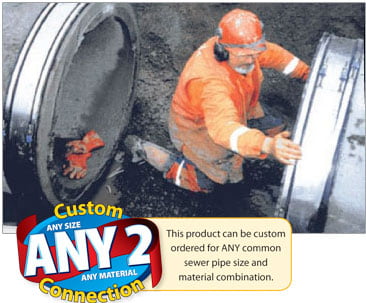 Product Description
Large Diameter Couplings are designed for the connection of Sanitary and Storm Sewer Pipe in gravity-flow applications.
Fernco provides Large Diameter Standard Couplings from 23.5" to 82.5" that are manufactured to order, thereby meeting specific contractor and site requirements. Large Diameter Couplings can suit any outside pipe diameter and any size of coupling can be supplied direct to the site.
Order Large Diameter Couplings by specifying the outside diameter (O.D.) of both pipes in inches.
*Where O.D. differences range from 1" - 12", a Fernco bushing system is available .
Product Specifications
Accommodates an O.D. difference of up to one inch*
Measures 10 inches wide
1/2 inch thick with multiple sealing ribs
4 - Series 304 (18-8) stainless steel High Torque Clamps
Up to 120 in./lbs. of torque for greater sealing pressure.