Fernco Fix-A-Flange
Fernco Fix-A-Flange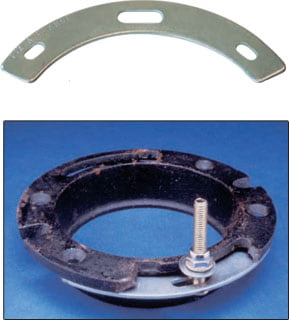 Fix-A-Flange
For the repair of broken toilet flanges.
Fix-A-Flange eliminates the need to replace broken closet flanges, saving time and money.
Features
Repairs broken toilet flanges without costly replacement
Stops wobbly, leaking toilets
Installs fast & easy--place the flange under the broken area of the ring and tighten the nut
Specifications
Suitable for all cast iron, plastic, copper & brass toilet flanges
Models
SF-100 - Fix-A-Flange toilet flange repair
Packaged for counter display with complete application and installation instructions.