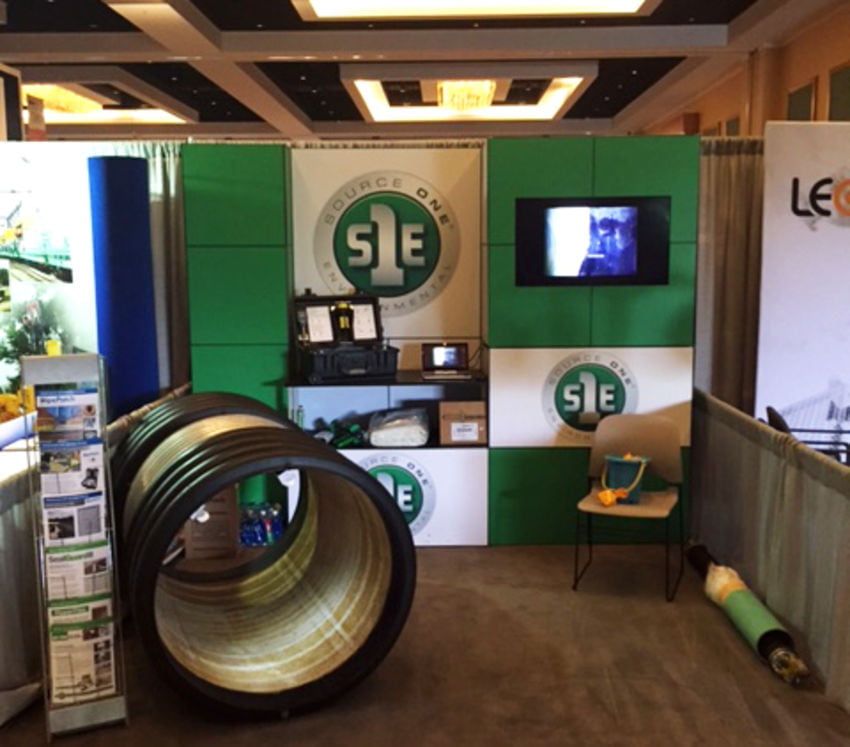 Orlando, Fla.—Source One Environmental (S1E) wraps up the summer at the 2016 American Railway Engineering and Maintenance Association (AREMA) show in Orlando, Fla. though Aug. 28- 31.
Mike Warner, National Sales Manager represented S1E this year at AREMA.
AREMA was formed as a merger of three major engineering support associations, the American Railway Bridge and Building Association, the American Railway Engineering Association and the Roadmaster's and Maintenance of Way Association, as well as the Communications and Signals Division of the Association of American Railroads. The groups formed AREMA as a way to develop the technical knowledge, practice, design and maintenance for railway infrastructure.
Nationwide, culverts are one of the most common structures within the rail system, numbering in the tens of thousands. Types of construction vary widely from wooden, concrete, steel and combinations of all three. Infrastructure repairs using traditional excavation methods can be expensive and disruptive to railway traffic.
By utilizing trenchless pipe repair and grouting solutions, railway companies can make efficient repairs that do not require rail closure.
S1E offers the railway industry and repair companies trenchless pipe rehabilitation solutions. These solutions include trenchless culvert and pipe repair with PipePatch, a CIPP process that can repair pipe diameters up to 48". PipePatch restores structural integrity to damaged pipes and culverts and exceeds specification ASTM F1216 for cured-in-place-pipe (CIPP)—a specification that required materials to be tested for a minimum service life of 50 years.
Grout sealants are also an effective way to repair railway culverts, tunnels, bridges and more. Providing grouts for both low-flow and high-flow water situations, infiltration can be stopped immediately without any absorption of water. Additionally, S1E offers a solid epoxy and crystalline waterproofing admixture to seal concrete.
S1E had a great show at AREMA and look forward to fall opportunities.
Looking for more information on railroads? Check out our recent Railway Case Study.
About S1E: Source One Environmental (S1E) was established in 2009 to provide innovative solutions for municipalities, contractors and plumbers in the water management and infrastructure rehabilitation markets. S1E manufacturers trenchless repair products that provide customers with an environmentally-friendly and cost-effective solution while offering on-site training and consultations.