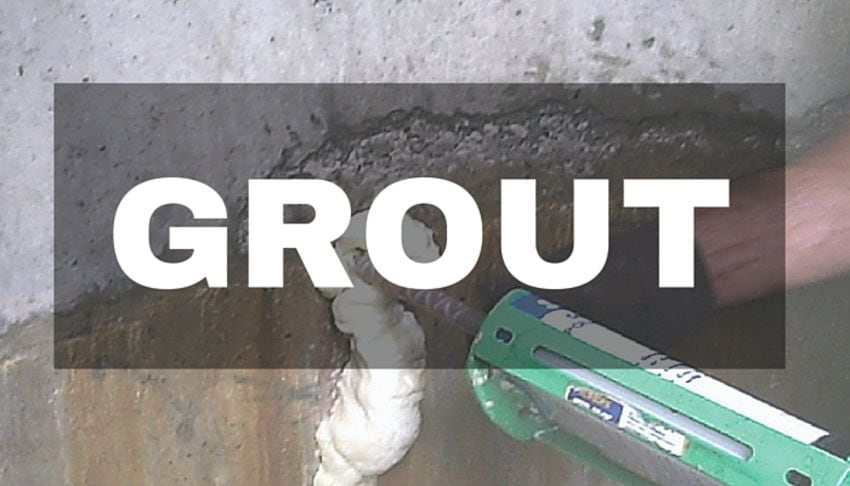 Grout Repair for Infrastructure Rehabilitation
by: Larry Lamphere, Regional Sales Manager
With many different grout products in the market, it can be difficult to decide what is best for certain applications. As our infrastructure begins to fail every day, it has become even more imperative to create structurally-sound repairs that are long-lasting in versatile environments.
Grout Applications
Leaks in cracks, honey combed concrete and expansion joints
Voids and under cutting
Water I/I
Grout Advantages
Builds strength and stability
Creates tenacious bond to any surface, wet or dry
Closed cell grout will not allow water to pass through
Expansion fills voids 20:1 expansion ratio
Flexibility accommodates movement while maintaining seal
Extremely simple to install
Re-sealable and re-usable
Grout Installation Methods
Juke or okem soaked in resin
Modified paint sprayer used as pump
Rocker/piston pump
Zirc fitting/mechanical packer/injection port
Hydrophilic Grout vs. Hydrophobic Grout
Understanding the basic differences in hydrophobic and hydrophilic chemical grouts is a crucial step in making the correct repair choice.
Hydrophilic chemical grouts can produce either closed cell foam or a non-cellular gel when mixed with water. The reaction time is typically 30-45 seconds for foams and 12-15 seconds for gels. When activated, the foam expands 5-8 times in volume. The gel's volume is produced relative to the ratio of water mixed with resin during installation. After hydrophilic gels cure, it can shrink in the absence of water.
As an agent that seeks out water to react and allows the resin to work into the concrete pores, hydrophilic chemical grouts bond to wet surfaces tenaciously. Hydrophilic chemical grouts are flexible and resilient after full cure and allow movement to occur in the structure without damaging the seal or bond.
Seeks water
Reacts with water
Flexible foam or gel
Crack injection
Stops active infiltrations
Cracks subject to movement or vibration
Moist soil stabilization
Permeation grouting
Hydrophobic chemical grouts require a catalyst that is blended into the resin prior to installation. The dosage of catalyst added to the resin controls the reaction time and the volume of foam produced. Using the maximum dosage of catalyst (10% by volume), hydrophobic resins have an aggressive expansion. The reaction time is 10-12 seconds and expansion can be as much as 29 times in volume. Hydrophobic chemical grouts repel water after activation.
When injected into a wet crack or joint hydrophobic resins can trap water in the pores of the wet concrete. Because hydrophobic chemical grouts repel water after activation, this trapped water becomes a bond inhibitor. Hydrophobic resins cure rigid and do not recover from compression. If the structure moves, there is good chance the cell structure will be damaged and leaks will reappear.
Repels water
Reaction and cured structure unaffected by water
Requires a catalyst
Seals leaks with curtain grouting
Fills voids
Soil stabilization
Compact grouting
Permeation grouting
It's important to consider your application thoroughly before choosing between a hydrophilic or hydrophobic material. The wrong choice will greatly impact the infrastructure's long-term durability, and could lead to multiple repairs being performed on the same job.
Learn more about Source One Environmental's (S1E) hydrophobic grouting products here.
About S1E: Source One Environmental (S1E) was established in 2009 to provide innovative solutions for municipalities, contractors and plumbers in the water management and infrastructure rehabilitation markets. S1E manufacturers trenchless repair products that provide customers with an environmentally-friendly and cost-effective solution while offering on-site training and consultations.