Why Canadian Municipalities are Turning to PipePatch
By: Source One
Cities across Canada are constantly faced with stretching budget dollars to improve and repair their underground infrastructure. With an eye on the bottom line, new repair methods and technology are consistently searched for to increase work capacity and productivity each day.
Canadian infrastructure provides safe drinking water, handles waste, creates space and protects homes and businesses from natural disasters. In Canada, 60% of our core public infrastructure is owned and maintained by municipalities with total assets estimated at $1.1 trillion dollars. However, one-third of Canada's municipal infrastructure is in fair, poor or very poor condition.
With new technologies and products continuously emerging, it has become nearly impossible for municipalities to keep techniques abreast that will assist and provide solutions for their infrastructure.
By attending trade shows, presenting our products to municipal engineers and training contractors on job sites, we take on the role of educators and consultants. We help municipalities understand the options that best fit the various applications they come across.
Over the years, several municipalities have inquired about PipePatch – a trenchless, point repair system that helps save money and fix crumbling pipes.
A town in Western Ontario needed to repair a 8" diameter sewer main that had soil and water infiltration due to missing pipe of approximately 10" in length. The main was located on a busy four lane road which would require a standard dig-and-replace job to avoid a sinkhole from forming. Looking for a solution that would avoid traffic disruption and cut costs, the city turned to Source One Environmental (S1E).
To prepare for the PipePatch installation, a section of the road was cornered off and a vacuum truck was brought to the job-site in case of high flow. This created as little disruption to the public and environment as possible. From start to finish, a trained and certified PipePatch contractor was able to complete the repair in three hours total. Over a dozen water and sewer city employees visited the jobsite to see PipePatch in action. Completely satisfied with the results and the savings, we were instantly asked to visit two additional sites to give our recommendations.
Visiting another township, we were searching their workshop for a section of pipe to demonstrate PipePatch. We came upon a 6" diameter cast iron pipe that had been recently excavated and replaced (picture 1). We explained that they had actually replaced a good section of pipe—they thought we had lost our minds. We proceeded to repair the pipe, along with the assistance of a local contractor, much to the amazement of the staff. Needless to say, the contractor was given a list of potential sites that required spot repairs, with PipePatch as the solution (picture 2 & 3)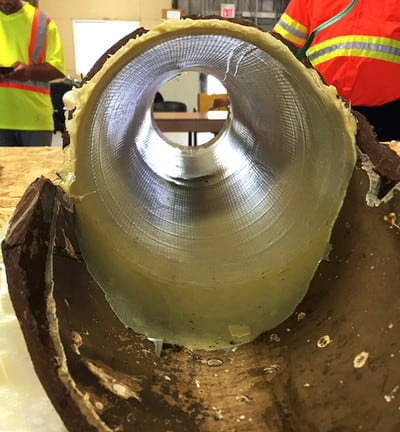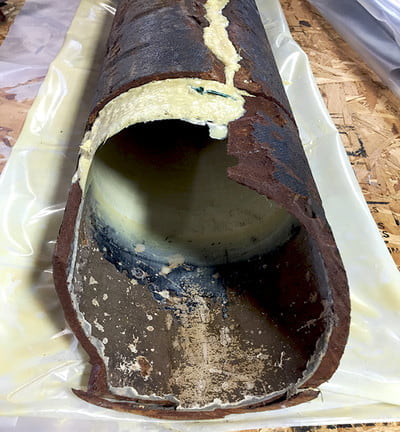 Through discussions with municipalities and contractors, cities across Canada are taking note of PipePatch and its benefits to save money, time and be less disruptive to landscape and traffic. By repairing and improving Canada's existing infrastructure, the country has the ability to strategize and budget for future asset management. PipePatch, along with complimentary products such as SealGuard, Hyperflex and X-Seal, are the solutions for our nation's stretched infrastructure budgets.
About S1E: Source One Environmental (S1E) was established in 2009 to provide innovative solutions for municipalities, contractors and plumbers in the water management and infrastructure rehabilitation markets. S1E manufacturers trenchless repair products that provide customers with an environmentally-friendly and cost-effective solution while offering on-site training and consultations.