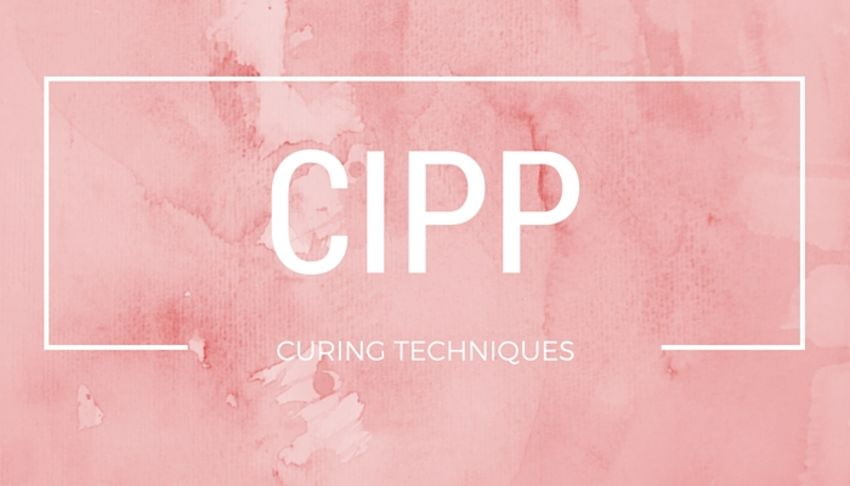 Hot Water, UV Light & Steam Cure Systems
by: Cooper Ellis, Technical Sales Support Specialist
A cured-in-place pipe (CIPP) is one of several trenchless rehabilitation methods used to repair existing pipelines. CIPP systems are considered 'trenchless technologies', creating a more cost-effective and less disruptive process than traditional "dig and replace" pipe repair methods. As trenchless technology, CIPP does not require excavation to rehabilitate a pipeline that is leaking or structurally unsound.
CIPP techniques form a seamless, pipe-within-a-pipe and has the capability to rehabilitate pipes ranging in diameter from 4" – 110". Since its debut in 1971, CIPP is one of the most widely used rehabilitation methods for lateral sewers, storm lines and water mains.
CIPP lateral lining techniques are the most commonly used process for trenchless pipe rehabilitation. A resin-saturated felt tube made of polyester is inverted or pulled into the damaged pipe. This process is usually done from the clean-out access in the lateral system, inside a house or an exterior clean-out. Air pressure transports the coated liner through the damaged pipe, avoiding obstacles like driveways, sidewalks and decks. After the liner system is in the place, the system can be cured by hot water, ultra-violet (UV) light or steam.
Curing Methods
Hot Water Cure
Curing with hot water is the original method for CIPP lining techniques. After the liner is in place and inflated with cold water, technicians can begin circulating hot water into the system from the hot water boiler to the access points. The circulation creates continuous water flow from one end of the liner to the other, and the appropriate water temperature is held until the resin fully cures. When the pipe is fully cured, cold water is then circulated to cool the liner.
UV Light Cure
Relatively new to the United States market, UV technology has been widely successful for curing pipes with fiberglass liners. Introducing air pressure to the liner, it begins to expand and press against the pipe walls. A UV light train and CCTV is inserted into the line to align and record the pipes condition. The light train is then activated and pulled back through the liner at a regulated speed to cure the pipe. The cure is controlled by the light train's speed which can range depending on the pipe diameter. This entire process is computer-monitored for temperature, pressure and cure rate to ensure a successful installation.
Steam Cure
Compared to a hot water cure process, steam is typically faster because steam can transfer heat quicker than water. Once the liner is in place, air pressure is used to inflate and expand the liner to the pipe walls. Boilers are then used to produce the steam and is introduced into the pressurized air through one end of the liner. This process often needs to be regulated by an integrated system that is specifically designed for steam. After the curing is complete, air flow is introduced to cool the liner and prevent shrinkage.
No matter what curing route you may take, the benefits of CIPP are limitless. CIPP installations can reduce costs 40%-60% and result in fewer disturbances to people and the environment when compared to excavation methods. Because CIPP creates a pipe-within-a-pipe, the finished cure creates an additional 50-year service life by restoring original structural integrity.
More and more organizations are ditching traditional dig-and-replace methods and are advocating for CIPP trenchless technology. What is your preferred pipe rehabilitation method?
Coming Soon to S1E: Source One Lining System is engineered for trenchless sewer repairs for 2" and larger pipe. The inversion process utilizes felt liner with an epoxy resin to rehabilitate a small portion of pipe, or up to 450 ft. The system can be cured using ambient temperatures or hot water and can be used in 90° bends and pipe transitions to create a structural barrier.
Source One Environmental (S1E) was established in 2009 to provide innovative solutions for municipalities, contractors and plumbers in the water management and infrastructure rehabilitation markets. S1E manufacturers trenchless repair products that provide customers with an environmentally-friendly and cost-effective solution while offering on-site training and consultations.