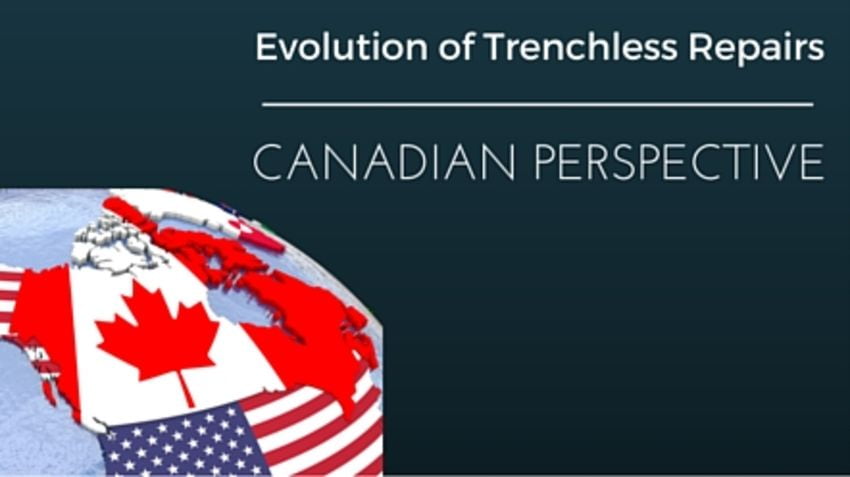 The Evolution of Trenchless Repairs in Canada
by: Michael O'Toole, Canadian Sales Manager
The phrase "trenchless repair" has become more and more prevalent in the Canadian Infrastructure vocabulary in the last couple of years. With infrastructure constantly decaying across Canada, municipalities and contractors have begun asking for trenchless repair technology for its environmental, durable and cost-saving qualities.
At first, there were a lot of different reactions when I would mention 'trenchless repairs' at tradeshows and events. Most municipalities and contractors were still using traditional "dig and repair" methods for replacing broken storm and sanitary pipes. People would often come back for a second explanation about how products, like PipePatch and SealGuard, would solve their infrastructure issues.
Thus, my position in Canada changed from salesman, to "Trenchless Consultant".
Contractors began to see the benefits of Cured-In-Place-Pipe (CIPP) point repair, particularly on residential lateral drain lines. Contractors realized that they would not have to dig up lawns and landscaped yards, but rather complete repairs in under three hours without an excavation. These repairs would not only save time and disruption, but would save the homeowner thousands of dollars with an even stronger host-pipe than before.
I turned my focus on Canadian municipalities to teach them how CIPP technology would save their city time and money. With over 150,000 km (93,205 mi) over sewer pipe installed throughout Canada and 90% of people in larger populated areas having connections to the systems, it was imperative that our infrastructure remained proactive.
In 2012, 30% of Canada's sewer system network was rated "poor" and needed an estimated C$40 billion investment to replace these. That's where PipePatch stepped in. After visiting the municipalities and performing demonstrations across the country, I would consult with the city on how point repair technology would improve their infrastructure systems. Looking over CCTV videos of potential PipePatch point repairs, I would tell them, "PipePatch can fix really bad pipe issues, not just good pipe problems."
The inspection scans would reveal infrastructure issues like broken, cracked, off-set, misaligned and missing pipe section—often with active infiltration or root intrusion. After training and certifying contractors and municipalities, they would be able to perform the installation by themselves. But, often I consulted to ensure the process would go smoothly. From the back of the pick-up truck, we would begin the installation process and carry out the entire repair. Because PipePatch is a kitted solution, we wouldn't need to cut or measure anything ourselves—saving valuable time and guesswork. Three hours later, we were done and the pipe was fully restored.
Demand for environmentally-friendly and services for infrastructure rehabilitation has increased in Canada. Although, we still have kilometers of pipe to repair.
About S1E: Source One Environmental (S1E) was established in 2009 to provide innovative solutions for municipalities, contractors and plumbers in the water management and infrastructure rehabilitation markets. S1E manufacturers trenchless repair products that provide customers with an environmentally-friendly and cost-effective solution while offering on-site training and consultations.